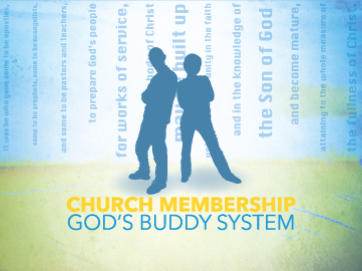 Church Membership: God's Buddy System
Ephesians 4:11-16
Pastor Brandon Current | March 8, 2015
Following Christ is a lifelong journey, but it needn't be a lonely one. Christ has provided us with his Church as a means of encouragement, companionship, and accountability for our walk with Him. However, to experience the benefits of this relationship, our connection to the Church can't be casual. We are members of one body and must submit to one another in the Lord and to the leaders He has placed over us. This is for our protection, refinement, and blessing.
"Church Membership"
Topical Sermon Series
(Scroll to the bottom for the most recent message)
Church Membership: Judge, But Not Judgmentally
1 Corinthians 5:9-13
Pastor Brandon Current | March 15, 2015
Christ was clear that we should not have a critical, prideful disdain for one another's sins. However, Scripture is also clear that we have a responsibility to gently correct sin in believers' lives and to break fellowship with those Christians who will not repent of their sin.
Church Membership: We're Glad You Came
Colossians 3:11-16
Pastor Brandon Current | March 22, 2015
The church will be a place that satisfies people's core need for relationship when it is a place of unconditional acceptance and loving expectation for the people who belong to God.

Find Us
Hudson Christian Church is located in Hudson, IL a few minutes North of Bloomington/Normal. We are across the street from Hudson Elementary School.
Our address is:
301 Clinton St
Hudson, IL 61748