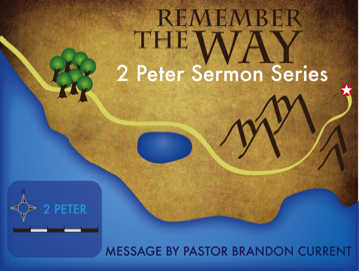 "Remember the Way"
2 Peter Sermon Series
(Scroll to the bottom for the most recent message)
Introduction to 2 Peter
2 Peter 1-3
Pastor Brandon Current | April 26, 2015
Hold on to sound doctrine and pure living, remembering that Christ is returning to judge.
Knowledge is Power
2 Peter 1:1-4
Pastor Brandon Current | May 3, 2015
The knowledge of God and of Jesus our lord is the pathway to a sweeter life and freedom from sin. We should therefore ever look to grow in our understanding of our God and meditate upon who He has revealed himself to be through His Word.
Useful and Assured
2 Peter 1:5-11
Pastor Brandon Current | May 10, 2015
The normal expected Christian experience is that we are continually growing into the likeness of Christ. Paul teaches us that this growth is the fruit of the Holy Spirit, but Peter reminds us that our effort is also involved. Growth keeps us useful in the Kingdom, grateful for forgiveness, and confident of salvation.
Tell Me Again
2 Peter 1:12-15
Pastor Brandon Current | May 17, 2015
The knowledge of God is not a test we prepare for once and forget, but something we refresh our minds with continually. We should be diligent to remind one another of the foundations of the gospel, the imperative of holiness, and the mandate to grow in godly virtues and good deeds.
We Can't Make This Up
2 Peter 1:16-21
Pastor Brandon Current | May 24, 2015
We can trust the Bible because the apostles' testimonies are reliable and God spoke through all the writers of Scripture by his Holy Spirit.
Don't Believe Everything You Hear
2 Peter 2:1-3
Pastor Brandon Current | May 31, 2015
You can't believe everything taught by Christians. The truth of the Gospel as recorded in the Bible is always under attack not only from the outside by those who reject it, but also on the inside by those who pervert it for their own interests. What is worse, they teach their false ways to others and give a bad reputation to those who follow Christ.
No Rest for the Wicked
2 Peter 2:3b-9
Pastor Brandon Current | June 7, 2015
God always has and always will punish the wicked. Believers can be both warned and encouraged by this truth. Follow Christ in the midst of godless men and know that the righteous will be preserved and vindicated.
Not Abandoned at the Altar
2 Peter 3:1-9
Pastor Brandon Current | June 21, 2015
One of the most important truths for believers to guard is that Jesus is coming back. Some choose to remember this, and some choose to forget. God is patiently waiting for all who will repent and turn to him, but one day soon Christ will return to judge the earth. Since it is for the lost that Christ delays, reaching them should be our focus.
Dress for the Occasion
2 Peter 3:10-15
Pastor Brandon Current | June 28, 2015
In light of the coming destruction and judgment of this world and the promise of new life and a new home that awaits God's people, we should be diligent about preparing our heart and conduct for that new place.
Read Carefully
2 Peter 3:15-18
Pastor Brandon Current | July 5, 2015
Cults and false teachers almost always base their separation on some difficult or obscure passage of Scripture that they illuminate with their special understanding which is contrary to more clear Scriptures. Don't do that. Read carefully and let Scripture interpret itself.

Find Us
Hudson Christian Church is located in Hudson, IL a few minutes North of Bloomington/Normal. We are across the street from Hudson Elementary School.
Our address is:
301 Clinton St
Hudson, IL 61748