Suffer Well: Dead People Suffer and Sin Less
1 Peter 3:18-4:6
Pastor Brandon Current | February 1, 2015
Christians can be victorious over temptation and endure persecution by adopting the mindset that they have already been crucified with Christ in baptism. Obeying God, even if it leads to suffering, is better than sin with comfort and pleasure. Since we are crucified with Christ, we are also certainly raised with him in victory and eternal life.
Introduction to 1 Peter
1 Peter 1-4
Pastor Brandon Current | July 13, 2014
This week we read through all of 1 Peter to prepare to study it deeply in the weeks to come. This is a book about Jesus written to people in the context of suffering. In his letter to persecuted Jews throughout modern day Turkey, Peter teaches us that we need to build on the rock solid foundation of a true knowledge and firm faith in Christ to thrive in any circumstance.
"On This Rock"
Sermon Series on 1 Peter
Salvation: Who You Are
1 Peter 1:1-2
Pastor Brandon Current | July 20, 2014
The first thing Peter instructs his readers to build on the rock solid foundation of Jesus Christ is a new identity. We learn in these verses that we are who we are because God is who He is. Our identity comes form God, and that is a powerful identity!
Salvation: A Bank that Cannot Fail
1 Peter 1:3-5
Pastor Brandon Current | July 27, 2014
In unstable times we can be thankful that in Christ our life and treasure are secure.
Salvation: Tried and True
1 Peter 1:6-7
Pastor Brandon Current | August 3, 2014
Followers of Christ suffer difficult times to refine and reveal the genuine faith that is inside of them.
Salvation: Invisible Certainty
1 Peter 1:8-9
Pastor Brandon Current | August 17, 2014
You have joy because your faith in Christ does not rest on what you have seen, but is made certain by what you have already experienced from Him.
Salvation: Privileged Perspective
1 Peter 1:10-12
Pastor Brandon Current | August 24, 2014
We who have received salvation through Jesus Christ are privileged. We are privileged to live in this time, and we have a privileged view of the mercy of God through salvation.
Response: Run to Holiness
1 Peter 1:13-16
Pastor Brandon Current | August 31, 2014
The right response to being saved from the condemnation of our sins, is to turn away from sinful living.
Response: Undying Love
1 Peter 1:22-25
Pastor Brandon Current | September 14, 2014
Christian community is more than just fun friendships, it is marked by a deep and active love.
Response: Grow Up
1 Peter 2:1-3
Pastor Brandon Current | September 21, 2014
Maturity comes from feasting on the Bible and letting it transform you.
Nation Building: Foundation or Folly
1 Peter 2:4-8
Pastor Brandon Current | September 28, 2014
It was God's plan that, in Christ, man's rebellion be brought to a head whereby some would be humbled and saved, while others would be hardened and destroyed.
Nation Building: Picked for Praise
1 Peter 2:9-10
Pastor Brandon Current | October 5, 2014
(Introduction was not recorded)
God has chosen from all the world men and women who he has called out of darkness to be a new nation, a people dedicated to the purpose of praising him. This praise flows from the salvation we have received.
Nation Building: Priesthood of HCC
1 Peter 2:5, 9
Pastor Brandon Current | October 19, 2014
God has given every believer the privilege and duties of a priest.
Nation Building: Official Ambassadors
1 Peter 2:11-12
Pastor Brandon Current | October 26, 2014
God has formed us into a new nation, and sent us into this world as the ambassadors of His kingdom. As His ambassadors we must not live by the same sinful desires that this world lives by, so that outsiders can see that Christ's kingdom is different. We must also let our lives be continually marked by good deeds, so that people can learn of the Glory and Goodness of God and be drawn to become citizens of God's country.
Nation Building: Official Ambassadors
1 Peter 2:18-25
Pastor Brandon Current | November 9, 2014
Christ invites us to follow his example when we are mistreated by being humble and respectful and submitting to those that mistreat us, so that we may lead them to Christ.
Submission: The Beautiful Woman
1 Peter 3:1-6
Pastor Brandon Current | January 4, 2015
God's design for a wife is that she demonstrate her beauty through a gentle submissive attitude towards her husband .The world tells women to be loud, defiant, independent and focused on external beauty. God holds up the example of righteous women in His scriptures that followed the will of their husbands as if it was God's will for their life. This kind of attitude may win over even unbelieving husbands.
Submission: The Path Down is the Way Up
1 Peter 3:8-13
Pastor Brandon Current | January 18, 2015
Putting the good of others in mind before our own leads to peace and blessing both now and in eternity. Peter is teaching that we should have a humble, submitted attitude in all of our relationships, not just the examples he gave in the preceding passages. Rather than focusing on our rights as individuals, focus on caring and tenderness, and the eternal good of others. This has the practical effect of giving others less cause to want to harm us. If we are willing to let go of our own interests, than God will look after our interests for us.
Suffer Well: Have No Fear
1 Peter 3:13-17
Pastor Brandon Current | January 25, 2015
We can speak and live for Christ boldly by focusing on Christ rather than our fears. Even if suffering does come as a result of following Christ, it is a blessing and should be face with hope rather than fear.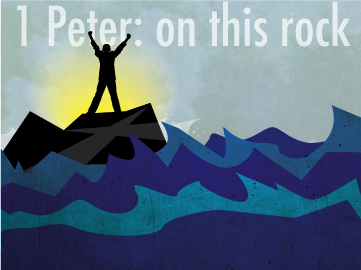 (Scroll to the bottom for the most recent message)
Suffer Well: The Body of Christ is a Bombshelter
1 Peter 4:7-11
Pastor Brandon Current | February 8, 2015
Christian community makes seasons of suffering more bearable. We are each called to a role in building that community. When we do this, we are allowing others to experience the goodness of God through His love reflected in our actions and offer a shelter from the harshness of this world. We carry out this activity by God's strength and for God's glory. We should be all the more fervent in the activity given the nearness of Christ's return.
Suffer Well: Blessed to Suffer
1 Peter 4:12-19
Pastor Brandon Current | February 15, 2015
Suffering persecution is a blessing given to Christians because God is allowing them to stand with Christ in His mistreatment. These times of suffering refine our faith, bring us intimacy with Christ, and ultimately bring Christ glory.
Suffer Well: Shepherds Not Wolves
1 Peter 5:1-4
Pastor Brandon Current | February 22, 2015
Suffering is a reality at times for the followers of Christ. Jesus sends us into the world as sheep among wolves, but He has left us shepherds for our own protection and guidance. Shepherds are charged to watch over the flock as well as their own motivations. A shepherd who becomes a wolf is devastating to the flock of Christ, but a shepherd who faithfully leads by example will be a safeguard to the church and receive an eternal reward.
Suffer Well: Young Sheep's Survival Guide
1 Peter 5:5-14
Pastor Brandon Current | March 1, 2015
Having given instructions to the shepherds, Peter now gives instructions to the sheep. Believers are prepared for any spiritual weather when they are submissive, humble, trusting, alert, uncompromising, and un-isolated. We can focus on these attitudes remembering that God Himself will restore and comfort us after every season of suffering He calls us to walk through.

Find Us
Hudson Christian Church is located in Hudson, IL a few minutes North of Bloomington/Normal. We are across the street from Hudson Elementary School.
Our address is:
301 Clinton St
Hudson, IL 61748